Ashton Kutcher and Houzz Choose Rug Pad Corner
(Note from Sam Kaoud: A part of the review process to be approved for inclusion in this process involved very stringent product review. Our Super Hold, like all of our other rug pads, passed every test, to include natural materials, safety to the air and safety to the floor. We are proud to have passed and been chosen to be a part of this extraordinary project and to be endorsed by Houzz.)
Our rug pads are desired by various consumers, to include interior designers, architects, builders and rug dealers and we are always happy to accommodate all types of customers. We can now include Movie Celebrities to our list of those customers requesting our rug pads, as can be seen by Ashton Kutcher's recent basement makeover for his mother.
In conjunction with the popular online home furnishings resource, Houzz, Ashton Kutcher surprises his mother with the makeover of the basement of her Homestead, Iowa home, the same home in which Ashton was raised and the one in which his mother and step-father still live. The makeover involved a complete gutting of what was once a gloomy and outdated basement, only to to transformed into a modern and fresher looking living space.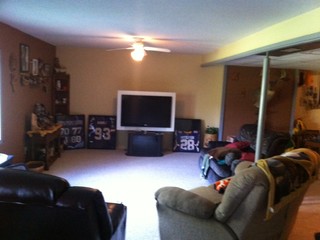 The Basement "Before"
As can be seen by the picture to the right, the previous basement was home to darker surroundings of carpeting, dark colored walls and older, outdated fixtures and furniture – Perhaps something that Ashton's mother became accustomed to as "Home". According to interior designer Catherine, the space "wasn't organized or well-displayed. It was just overbearing. A close look will show more "old-fashioned" furniture, which was something that was probably practical as Ashton grew up.
As part of the transformation, Ashton and his interior designer replaced the carpeted floor with beautiful lighter colored wood flooring, just another way to lighten the space to give it a "fresh and airy" look. And, on top of every great wood floor lies some beautiful and functional area rugs, as they chose some to add a perfect compliment to the "new" look of the basement. With the area rugs come quality rug pads and so enters Rug Pad Corner – Our Super Hold all natural rubber rug pad was chosen to secure and protect the area rugs and floors.
Super Hold Rug Pad Adds Safety and Protection
While each of the rug pads we offer reflect the most natural of their type, Super Hold was chosen as a very effective compliment to the type of rugs chosen for this project – You may see the product in the
Houzz article here
.  As a natural low profile rug pad,
Super Hold
works perfectly with flatter rugs, hence the reason it was chosen for use under the rugs in this basement. For the main living space, a flat-weave rug in neutral tones was chosen as a wonderful compliment to the rest of the decor. Super Hold is a 1/8″ thick non slip rug pad that works great with flat-weave rugs because of the nature of the rugs – They are meant to be close to the floor, almost like a painting, and a thicker rug pad does not do justice to the look achieved by this type of rug.
Since like with most consumers, Houzz, Ashton and the interior designer wanted to maintain a natural quality to this renovation, Super Hold was simply the right choice – Unlike other "mesh looking" rug pads, Super Hold is all natural rubber, not plastic, and is made in the USA, not China. The rug pad is rated as a "Green" product, does not off-gas and does not smell. Lastly, since flat-weave rugs tend to slip, Super Hold naturally holds to the floor with the rubber material, keeping the floor safe for use in a low-profile manner, never obstructing the rug or floor.
Rug Pad Corner is proud to have been chosen by Houzz and Ashton Kutcher as the rug pad supplier of choice for the surprise Mother's Day Makeover of his mother's basement – While we are already used to being in most consumer and interior designer homes, we will admit that it's an added benefit to be among the "Rich and Famous" – Thank you, Ashton, and we hope our rug pads serve their purpose for many years under your mother's area rugs!